How can I download a receipt for a product I've purchased?
When you purchase a product, you will be sent a receipt by email. If you don't see it, please check your spam and trash folders. If you need a more detailed receipt, you can customize and download a detailed receipt/invoice on your Purchases page using the receipt icon.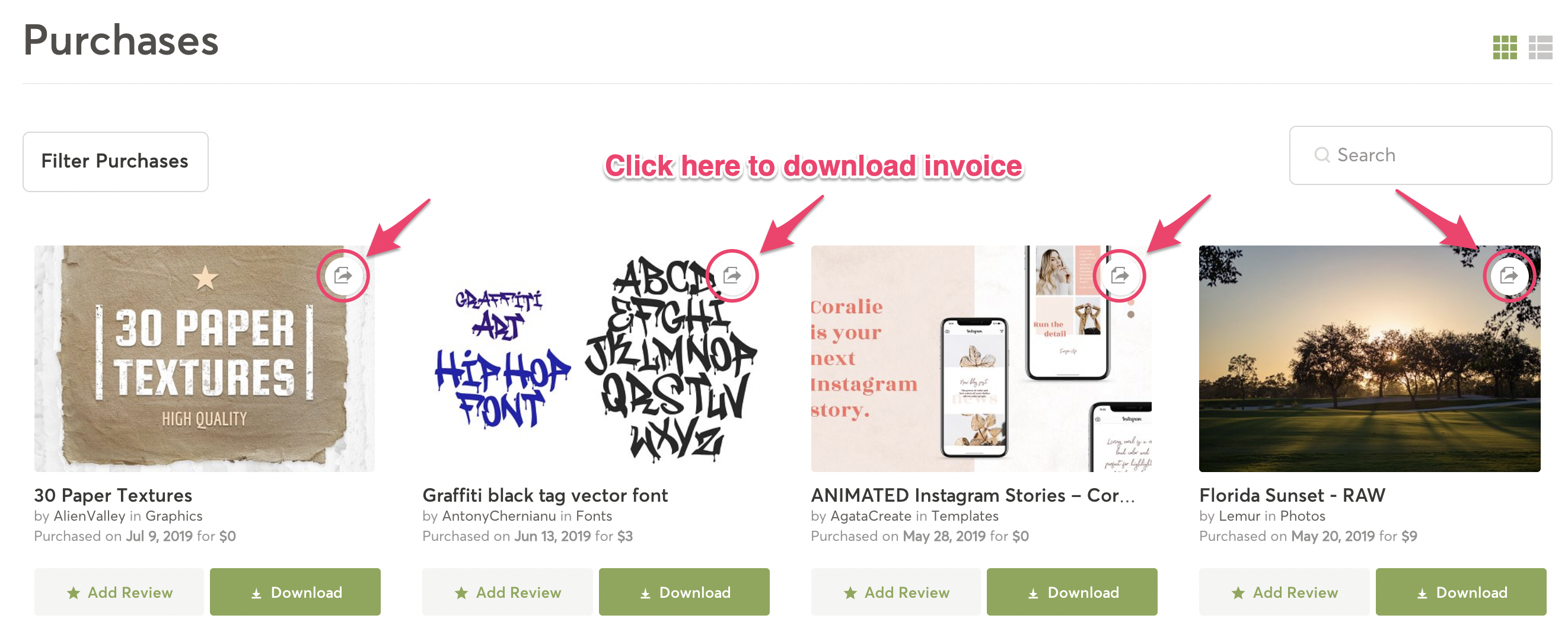 You can add in more details about things like your company name, company address, etc.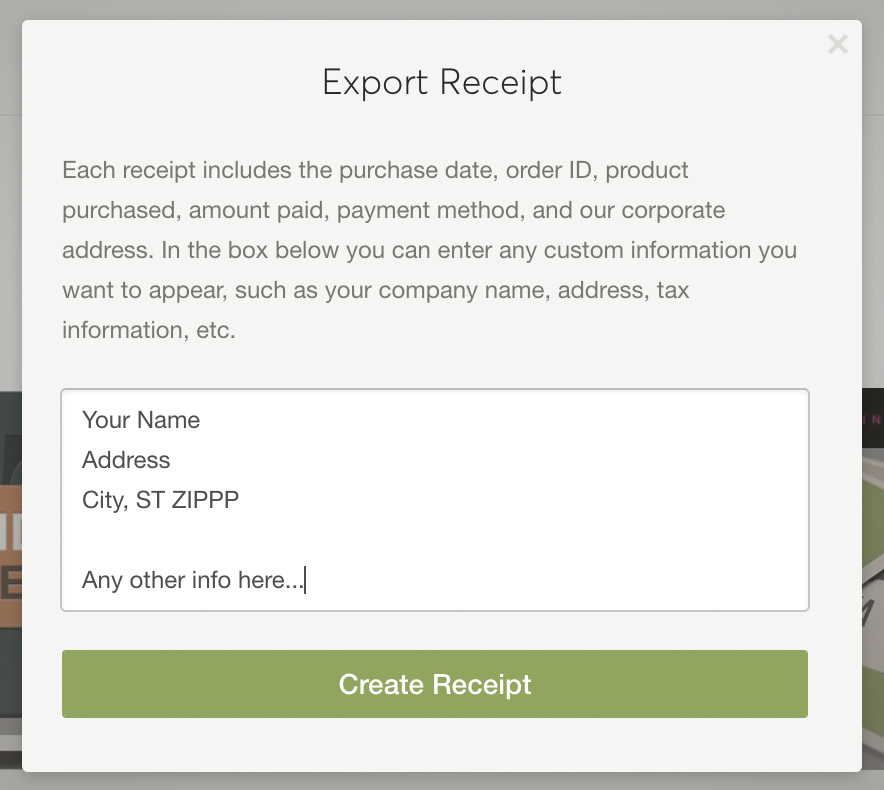 Once you hit Create Receipt, your detailed receipt will download onto your computer. You can regenerate the receipt at any time if you need to update your info.
How can I download a receipt for a CM bundle?
If you purchased a Creative Market Bundle, you were emailed a receipt at the time of your purchase. However, if you'd like to download a custom receipt for a bundle, click the receipt icon on ANY of the bundle's individual products. Though Bundle products are listed as "$0.00", a CM Bundle receipt will list the entire bundle as the purchase for the final price of the bundle.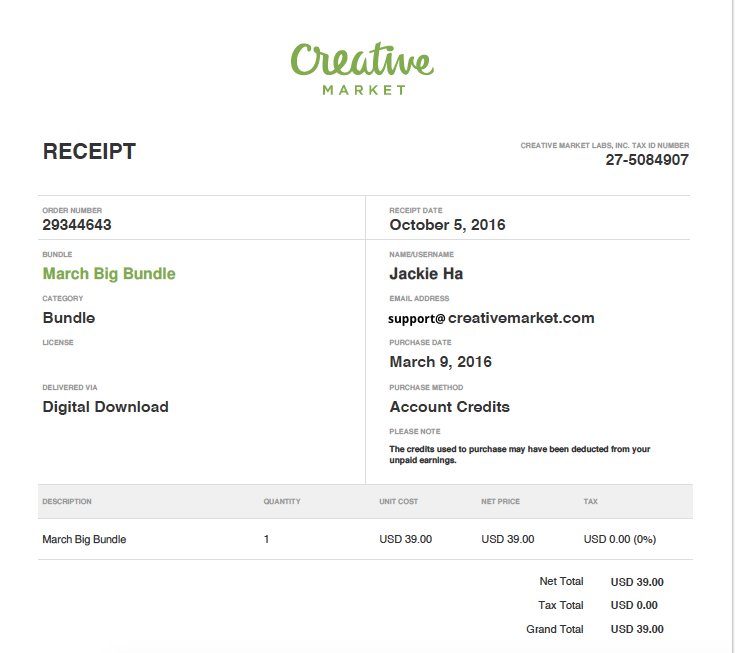 How can I download a GST/VAT invoice?
GST/VAT invoices are automatically created at the time of purchase, using the information that was entered on your GST/VAT settings page at that time. (Please see our VAT FAQ for more information on VAT Invoices.) To download an invoice, visit your purchases page. If a GST/VAT invoice is available for your purchase, just click on the invoice button in the top right of the product thumbnail, then click 'GST/VAT Invoice' in the box that drops down, and your invoice will download immediately. Please note that if you are exempt from paying VAT/GST for a purchase, a VAT/GST invoice will be not be generated for your purchase, as VAT/GST invoices are only generated for purchase where VAT/GST has been paid.
Again, the information included on the invoice will be the same information that was entered in your GST/VAT settings page at the time of purchase. Unlike regular receipts, GST/VAT invoices cannot be modified after purchase, per GST/VAT regulations. If you've downloaded your GST/VAT invoice and notice it has the wrong information, please contact Supportcontact Support, and we'll be happy to arrange a solution.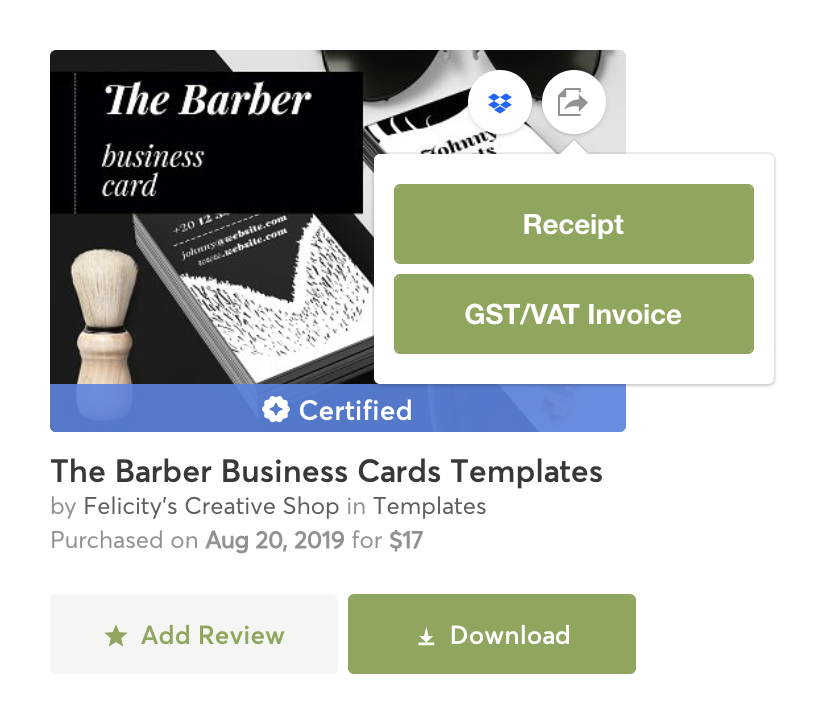 How can I download a receipt for credits I've purchased?
For credits, you will receive an email receipt if you purchased using PayPal. If you purchased credits using a credit card, please contact uscontact us and we will e-mail you a copy of your receipt.